Quincy Jones Artist, Music Icon And Humanitarian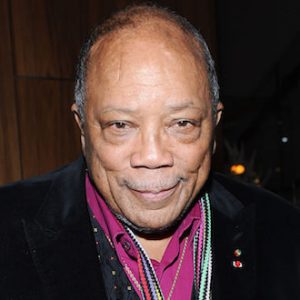 Celebrating more than 60 years performing and being involved in music, Quincy's creative magic has spanned over six decades. An impresario in the broadest and most creative sense of the word, Quincy Jones' career has encompassed the roles of composer, record producer, artist, film producer, arranger, conductor, instrumentalist, TV producer, record company executive, magazine founder, multi-media entrepreneur and humanitarian. As a master inventor of musical hybrids, he has shuffled pop, soul, hip-hop, jazz, classical, African and Brazilian music into many dazzling fusions, traversing virtually every medium, including records, live performance, movies and television.
With a long history of humanitarian work which began in the 1960's and 70's, Jones was one of the key supporters of Jesse Jackson's Operation P.U.S.H. In 1985, he pioneered the model of using celebrity to raise money and awareness for a cause with "We Are the World." The song remains the best-selling single of all-time, and raised more than $63 Million for famine relief.
In 1999 Quincy Jones joined Bono and Bob Geldof during a meeting with Pope John Paul II as a part of the Jubilee 2000 delegation to end third world debt. The delegation's visit resulted in $27 billion in third world debt relief for Bolivia, Mozambique, and the Ivory Coast.
In 2004, in front of a live audience of more than a half-million spectators, Jones launched the We Are the Future initiative with a concert featuring Carlos Santana, Alicia Keyes, Josh Groban, Oprah Winfrey, Norah Jones and a host of other entertainers from around the world. The initiative has established Municipal Child Centers in the cities of Addis Ababa (Ethiopia), Asmara (Eritrea), Freetown (Sierra Leone), Kigali (Rwanda) and Nablus (Palestine) where youth are being trained to run child-based programs in health, nutrition, Information and Communication Technology (ICT), Sports and Arts.
In 2007, Jones and the Harvard School of Public Health joined forces to advance the health and well-being of children worldwide through Project Q, a strategic initiative of School's Center for Health Communication. Through the strategic use of media, Project Q challenges leaders and citizens of the world to provide essential resources to enable young people to achieve their full potential.
A centerpiece of Project Q is the Q Prize, which recognizes extraordinary leadership by public figures and social entrepreneurs who are championing the needs of children. The inaugural Q Prize was awarded in January 2007 to Scott Neeson, founder of the Cambodian Children's Fund, and over $600,000 was raised in support of Neeson's work.
Through his personal foundation, The Quincy Jones Foundation, Jones raises awareness and financial resources for initiatives that support global children's issues in areas of conflict, malaria eradication, clean water and efforts to restore the Gulf Coast (post-Katrina). Philanthropic partners include Malaria No More, Millennium Promise, and R&B singer Usher's New Look Foundation.
Social Activism Quincy Jones Achievements, Charity Work, Events and Causes
Achievements: Quincy Jones has succeeded in almost every segment of the media and entertainment industry.
Music: He as been nominated for a record 79 Grammys and won more Grammys than any living musician (27). Produced the best-selling album of all-time (Michael Jackson's Thriller) & the best-selling single of all-time (We Are the World). He has produced, composed, conducted, arranged or performed on more than 400 albums.
Film: Produced The Color Purple (discovering Oprah Winfrey), which was nominated for 11 Academy Awards and grossed nearly a quarter-billion dollars. Has scored more than 35 feature films and been nominated for 7 Oscars including winning the Jean Hersholt Humanitarian award at the 1995 Academy Awards. He is the only African-American producer to be nominated for Best Picture and was the first black conductor of the awards.
Television: Produced the highly successful Fresh Prince of Bel Air (discovering Will Smith); Fox's In the House, and MadTV—which did 14 seasons on Fox. Was the first black conductor of the Academy Awards in 1971 and produced the 1996 Academy Awards. Won an Emmy for his score on the miniseries Roots– the most successful TV miniseries in history.
Broadway: Produces The Color Purple currently in 27 cities and nominated for 11 Tony Awards
Print: Founder of Vibe Magazine—the #1 magazine targeting the urban youth demographic
Radio: Founding board member of Premier Radio Networks, and a former owner of WATL and WNOL.
Quincy's 80th Birthday Bash: Billboard.com – April 14, 2013
List of awards and nominations received by Quincy Jones: Wikipedia
Quincy Jones – YouTube – Quincy Jones Productions video channel.