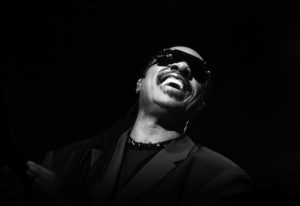 A prominent figure in popular music during the latter half of the 20th century, Stevie Wonder has recorded more than thirty U.S. top ten hits and won twenty-two Grammy Awards (the most ever won by a solo artist) as well as a Lifetime Achievement Award. He has also won an Academy Award for Best Song, and been inducted into both the Rock and Roll and Songwriters halls of fame. He has also been awarded the Polar Music Prize. American music magazine Rolling Stone named him the ninth greatest singer of all time. In June 2009 he became the fourth artist to receive the Montreal Jazz Festival Spirit Award.
He has ten U.S. number-one hits on the pop charts as well as 20 R&B number one hits, and album sales totaling more than 100 million units. Wonder has recorded several critically acclaimed albums and hit singles, and writes and produces songs for many of his label mates and outside artists as well. Wonder plays the piano, synthesizer, harmonica, congas, drums, bass guitar, bongos, organ, melodica, and clavinet. In his childhood, he was best known for his harmonica work, but today he is better known for his keyboard skills and vocal ability. Wonder was the first Motown artist and second African American musician to win an Academy Award for Best Original Song for his 1984 hit single "I Just Called to Say I Love You" from the movie The Woman in Red.
Proceeds from the "Shelter In The Rain" single were directed to Stevie's charity organization, The Wonder Foundation, to help with Hurricane Katrina relief efforts.
Stevie Wonder's We Are You Foundation has made and continues to make generous Christmas donations to the Junior Blind of America. He also generously supports the following 18 charities.
In 2009, he was named a Messenger of Peace by the United Nations, Stevie where he joined 10 other Messengers of Peace – individuals widely recognized for their talents in the arts, academia, literature, sports and entertainment – in helping to raise worldwide awareness of UN ideals and activities. Through their public appearances, contacts with the international media and humanitarian work, they expand public understanding of how the UN helps to improve the lives of people everywhere.